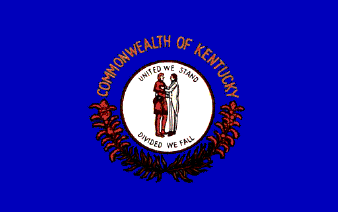 Facts about Kentucky
Admitted to the Union in 1792
State Bird: Kentucky Cardinal
State Flower: Goldenrod
State Tree: Kentucky Coffee Tree
State Fish: Kentucky Bass
State Wild Animal: Gray Squirrel
State Song: "My Old Kentucky Home, Good Night!" by Stephen Foster
Capitol: Frankfort (Franklin County)
Largest City: Louisville (Jefferson County)
Population: 3,685,296
Land Area: 39,647 Square Miles
Famous Kentuckians past and present
Both Civil War Presidents, Abraham Lincoln and Jefferson Davis, were born in Kentucky
Daniel Boone, although born in Pennsylvania was largely involved in the settlement of Kentucky and is buried here in Frankfort
A.B. "Happy" Chandler: On November 1st 1945 he left the Senate to become the national commissioner of baseball. Over the next six years black players entered the major leagues for the first time and a players pension fund was established.
Mohammed Ali: : arguably one of the greatest heavy-weight boxers to ever live was born on January 17, 1942 in Lousville, Kentucky.
Loretta Lynn: The Coal Miner's Daughter starring Sissy Spacek was based on the life of this country music legend. She was born on April14,1935 at Butcher Holler in Johnson County.
Crystal Gayle: Country Music Singer and sister to Loretta Lynn.
Kate Mulgrew: Captain Janeway on the series Star Trek Voyager.
Lee Majors: The Six Million Dollar Man.
William (Bill) Monroe: The Father of Bluegrass Music. Born September 13,1911 near Rosine, Kentucky.
Ricky Skaggs: Country/Bluegrass Singer. Born in Cordell, Kentucky.
Rosemary Clooney : Star of radio, motion pictures, and television was born on May 23,1928 in Maysville, Kentucky.
The Everly Brothers: The Pop singers were born in Brownie, Kentucky.
The Judds
George Clooney: From the cast of ER and the latest Batman was born in Maysville and is the nephew of Rosemary Clooney.
Kevin Richardson of the Back Street Boys is from my own little home town here in Kentucky.
and many more to come!
.........and the infamous too.
Larry Flynt : Publisher of Hustler Magazine. Born November 1, 1942 near Salyersville in Magoffin County, Kentucky.
Are you thinking of planning a trip here or just want to know more about us? Check out these sites!